Build apps that react to the physical world
Unified SDK and API to positioning, geofencing and triggering
Positioning
Geofencing
Triggering
Analytics
UNIFIED ACCESS TO ALL POSITIONING TECHNOLOGIES
Get access to all of your favourite positioning technologies through a single API: IndoorAtlas, iBeacon, Eddystone beacons, Wi-Fi, GPS and cellular geofencing. Proximi.io is truly technology-agnostic, and committed to supporting all of the major positioning technologies. In other words, you'll be safe with us – no matter what technologies you want to use today or tomorrow.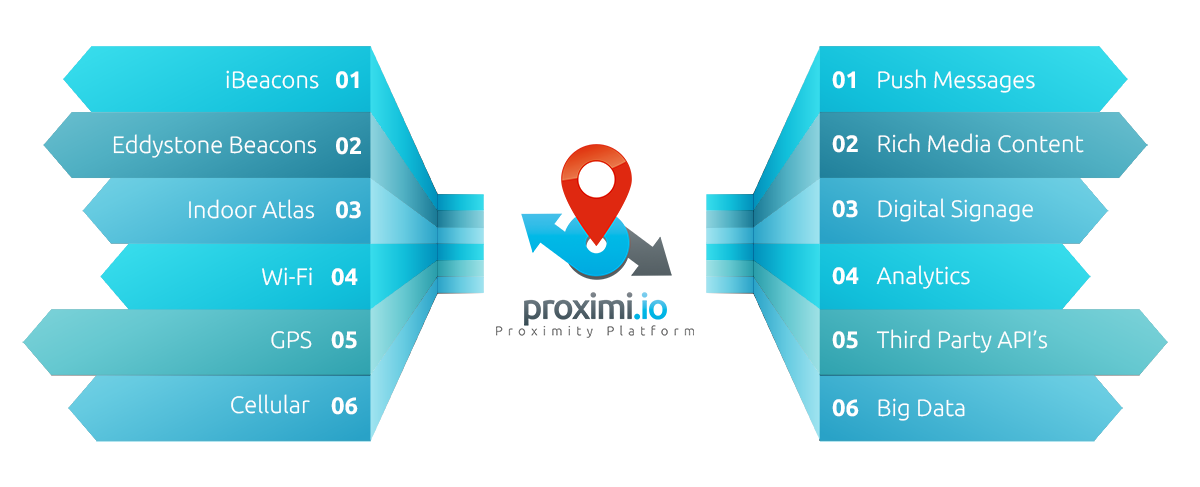 In partnership with:

Much more than push – our action flow editor allows you to do complex location-based intelligence with simply drag-and-dropping ready-made code bits. Add rules and switches, integrate to 3rd party APIs, connect to social media, automate IoT devices…
Manage on-the-fly
Once you have connected Proximi.io to your app, all the rest of the changes take place in the portal with visual tools. Any change you make will be automatically updated to all of your app users' devices. On the portal, you will also be able to access detailed analytics and heatmaps about where your app users have been moving.
Save time
With Proximi.io you can get your proximity setup up and running in just a matter of minutes. Start light and iterate fast for optimal results.
Accuracy
Our algorithms can improve the accuracy of the existing position technologies up to 1 m; mix technologies for improved results.
Flexibility
Enable & disable position technologies on the fly without re-submitting to App and Play Store. Start with GPS and add beacons later.
Save battery
We have different profiles for different situations; our power saving features minimize the battery drainage.
Scalable
Proximi.io scales automatically up to millions of daily proximity events. Let us take care of your infrastructure and focus on your users.
API & Integrations
Our REST API and Action Flow editor enables you to connect Proximi.io with almost any third party systems available.
All the major platforms
Boost your mobile apps with our native Android and iOS SDKs, Ionic / Cordova plugin.