Start building your own indoor positioning app in minutes
With Proximi.io platform, you can develop mobile applications with extensive indoor positioning and navigation capabilities in a fraction of a time. Proximi.io devkit gives you access to all the portal's functionality and allows you to easily explore the possibilities of integrating location-based functionality into your own app.
The unified positioning SDK provides you the following capabilities: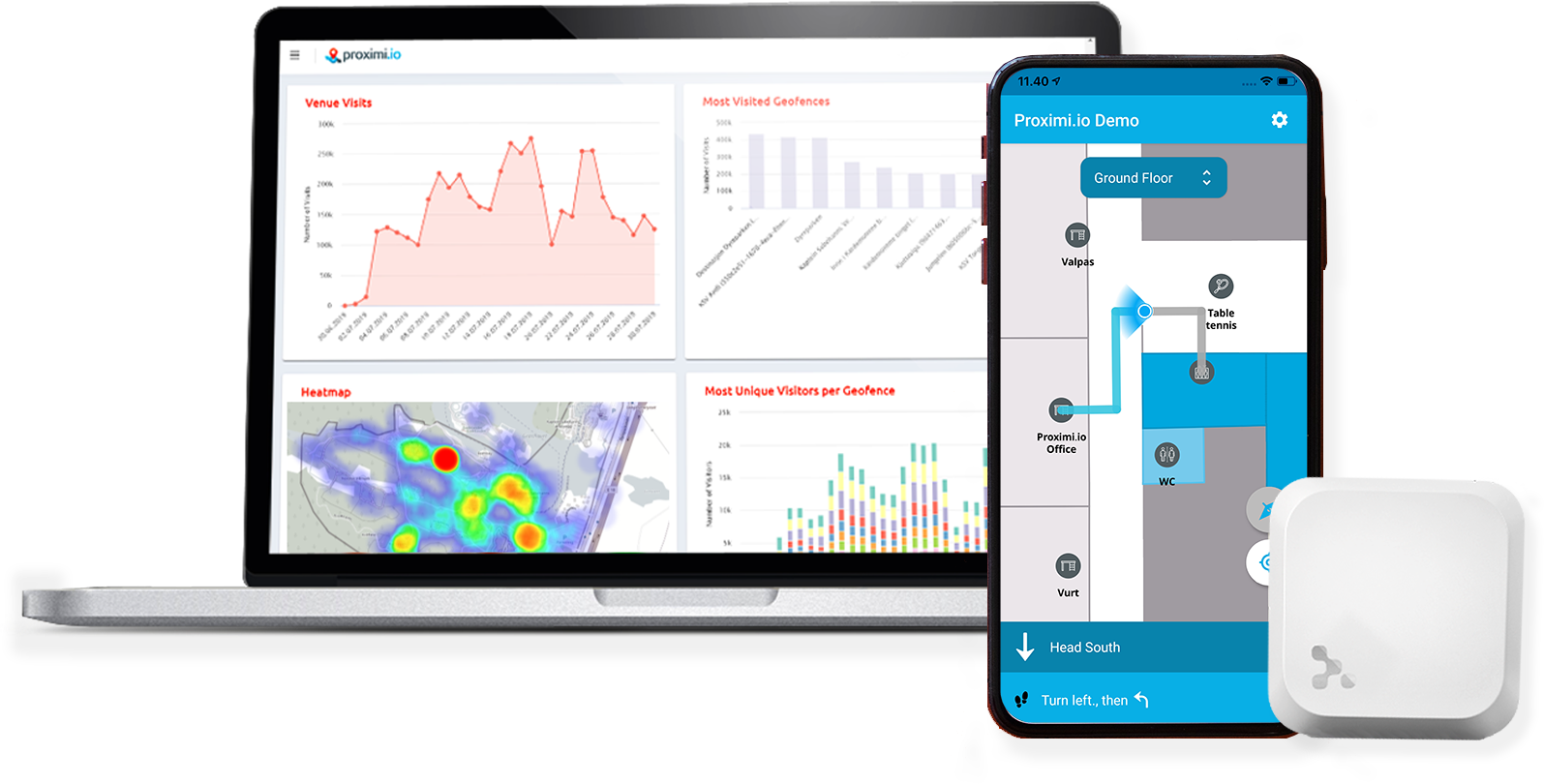 What's included?
The kit includes everything to test out positioning in approximately 120 sqm (1300 sqft) area.
Access to Proximi.io SDKs for Android, iOS, React Native and Web (Angular)
1 month test license to Proximi.io web portal and APIS
Included functionality: indoor positioning, indoor navigation, geofencing, analytics
How does it work?
Purchase the devkit through the link below.
We will immediately ship the devkit to you. Expect them to arrive to your address within 2 week's time.
Your 1 month of free trial on the Proximi.io portal activates, when the beacons arrive.
Install the beacons with double-sided tape in your test area.
With the help of tutorials, sample applications and Proximi.io Management Apps (Android & iOS), we enable you to create your own demos and add positioning functionality into your own app.
Where do you ship?
We ship internationally across the world. Apart from a few limitations (including Iran, Libanon and North Korea), we ship everywhere.
What are the shipping terms?
The beacons are shipped as Carriage Paid To (CPT).
Does Proximi.io only work with the beacons that come along?
No, we work with all kinds of beacons that utilize iBeacon or Eddystone protocol. In order to make sure you get a good experience of the platform's capabilities, we will ship you some beacons that we have tested and verified in the devkit.  That will make the setting up of a test area much easier for you.
What if I have my own beacons already?
If you have some Kontakt.io Smart Beacons already, we can activate your trial straight away. The price is still the same, and we will ship you the 6 beacons in any case.
Is there recurring charges?
The devkit includes 1 month of license. After the license period ends, your subscription will automatically end, and there are no automatic charges made from your card. After the trial period you usually want to upgrade to a full project or enter into a Proximi.io Reseller Agreement. Discuss with our sales team to figure out what is the best match with your needs.
Do I have to pay customs on the beacons?
The beacons are shipped from EU. Depending on where you live, you may need to pay customs when the beacons are imported to your country. Your local customs/UPS will contact you and inform you about the payment method. Please note that the customs are payable by you.
What if I need more time to develop my app?
The idea of the devkit is to give you an opportunity to test out Proximi.io functionality and assess if it is a good match with your needs. When you are happy with the capability, talk with our sales team to figure out the best way to move forward. We would either upgrade you to a full license or a enter into a Proximi.io Reseller Agreement, based on your needs.
Is it possible to get more beacons / larger test area?
If you would need a larger test area, our sales team is happy to calculate you a POC proposal tailored to your needs. Just send us a message.
What if I need support during the development?
The devkit comes with documentation, online tutorials, videos and other materials to help you setup a test environment with the devkit. If you would need more direct support from Proximi.io team, we are happy to provide you a POC proposal tailored to your needs. Just send us a message.
Kontakt.io Smart Beacon SB18-3
Size: 55mm x 56mm x 15mm
Battery life: around 4 years with recommended settings (configured for accurate indoor positioning)
Color: white
 Protection: IP-50
Flame resistance: safe – V0 flammability class
Operational temperature: -20°C / + 60°C (-4°F / +140°F)
Humidity (non-condensing): from 0% to 95%
Certificates: CE (EU), FCC (USA), IC Canad, RoHS