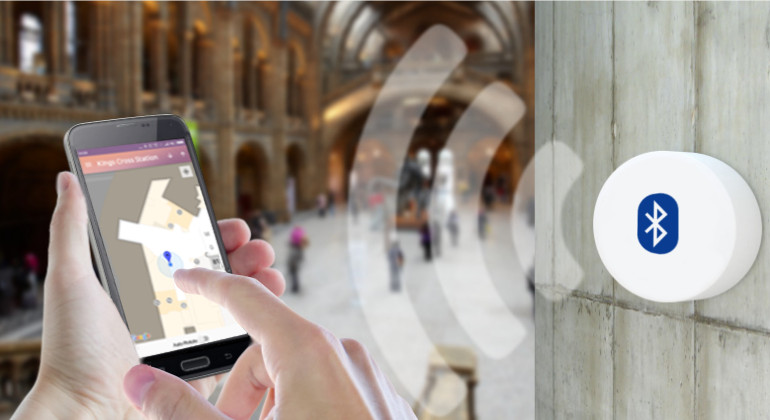 Bluetooth beacons are small, easy and cost-efficient way to build a connection between the real word and your mobile application. Using beacons for push notifications, coupon delivery and presence detection is fairly straightforward. But if you wish to create accurate indoor positioning with beacons, things get a bit more complex. There are a number of things both from the software development side, and the beacon placement aspect that you need to take into account. That being said, with careful preparations it is possible to reach 1-2metres positioning accuracy also with Bluetooth beacons. Let's walk through the steps of how to prepare beacon-based indoor positioning for optimum accuracy- whether you are building it from scratch or utilizing the Proximi.io platform.
Bluetooth beacons & Software
Determining location for beacons. Let's start from the basics. A Bluetooth beacon has no location intelligence built into it. Like their name gives away – they are like lighthouse beacons transmitting Bluetooth signal around them, expecting nearby smart devices to pick it up and understand its meaning. Depending on whether you utilize the iBeacon, Eddystone protocol or some other protocol, your beacons will be either transmitting their UUID, major and minor values or their namespace and instance IDs. In order to turn these values into real-world coordinates, you need to assign each of these beacons physical coordinates either inside your app, or in an external database. Upon comparing the received signal values with your registered beacons and their coordinates, you will be able to get the first, rough position estimate through the RSSI. RSSI stands for Received Signal Strength Indicator which represents a value of the power of a received radio signal. The longer the distance is, the lower the RSSI signal is.
Trilateration. The second most important thing to know is that beacons don't have a directional antenna – you can only receive an estimation of the distance to the beacon, not from which direction the signal is coming from. In order to understand that, you need to have a line-of-sight to three or more beacons, and compare the RSSI values to each of them. When the beacons are well placed, the calculation pintpoint you to one specific location within the room. Like the term says, you do need a minimum of three beacons for deducting accurate position. One exception to this are narrow corridors or other situations, where you may be able to calculate position between two beacons.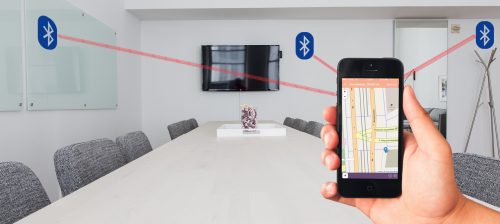 Kalman filters. Unfortunately, even with the best beacon models there are irregularities in the transmitted signal, and it can be further affected by unwanted noise. Therefore, a common solution is to add a set of filters and algorithms on top of the trilateration calculation. Shortly said, Kalman filters are an algorithm that considers the history of the measurements into account. With them a lot of the position jumping can be ceased.
Proximi.io Platform
If you are using the Proximi.io platform, you don't need to worry about any of the above-mentioned software issues. In nutshell, Proximi.io platform provides you an access to all position technologies through a single SDK and API. Our libraries handle all the logic for beacon positioning, triangulation and filtering automatically in the background. In addition to beacons, you can combine IndoorAtlas, Wi-Fi, GPS and cellular positioning.
Important things to keep in mind, when utilizing Proximi.io platform for beacon-based positioning is that placing the beacons' positions on the web portal needs to be done very carefully. We recommend linking a detailed floor plan for each floor to assist you in the placing process. If you need further instructions for how to add and place beacons, please visit this link: Part 3. BLE Beacons. While you are adding them, keep in mind that only beacons within the same department are used in the trilateration calculation. If you are aiming to achieve accurate location, add the beacons in the same room or area always under the same department. If your smart device is still struggling to calculate trilateration, make sure you have not switched it off from "Advanced settings". This can be found under "Manage Applications".
Bluetooth beacons & Physical World
Selecting hardware. Regarding the physical devices you utilize, there are dozens of Bluetooth beacon manufacturers. We highly recommend you to review the technical specifications before making any decisions. You don't want to end up with beacons with irregular signal or weak battery life. Regarding the protocol you utilize, you can use any of the available options for positioning. However, if you utilize Proximi.io platform, you need to opt for either iBeacon or Eddystone, which are supported by nearly all beacons.
When aiming for great location accuracy results, it's the best to place the beacons on the walls at around 2m height. When the signal is coming from above, it's easier for your smart device to receive it. We recommend you to place them somewhere visible, obstacles made of iron and other heavy material can cause disturbance.
Beacon placement. When you are planning where to install the beacons, please find the floor map of the environment. It'll help you to measure dimensions of the rooms and calculate the number of Bluetooth beacons you'll need. Start with placing one beacon in each corner of the room. If your square shaped room is larger than the beacon signal's reach, you need more beacons in between the corners to provide location accuracy of 1-2 meters. When you are working with other than square shaped rooms, we suggest you also to take a look at the floor map and plan the beacon positions there. Make sure that the beacons are less than their signal's reach away from each other. For example, if you have set their transmission power to equal 30m, preferred maximum distance is 20-25 metres to provide more accurate location. Also make sure that your room is large enough. The location accuracy falls usually between 1 and 2 meters so if your room is too small, your smart phone cannot calculate trilateration.
Here are examples of beacon positions in square shaped room. This picture is representing a large room, where more than one beacon per corner is required.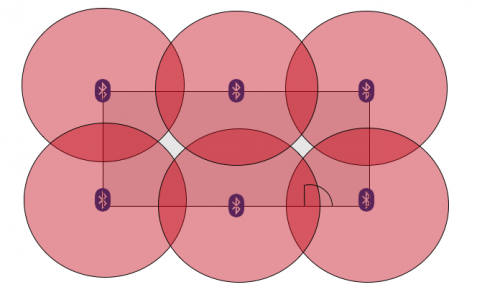 When you have room large enough and the dimensions of it, something you may want to think of is the indoor-outdoor transition. If you are placing beacons to e.g. a shop, you might want to add one of them right next to the entrance. When a customer with a smart device and your application installed on it enters or exits your shop, the event will be triggered. Besides to this scenario, there are multiple other circumstances where you may want to apply this information. If you are aiming for accurate location in a building with multiple floors, it's recommended to add beacons right after entering/exiting staircase, escalator or a lift. Your smart device doesn't understand the differences between the floors itself and that's why it's important to place a beacon right after the floor change happens. This is also important for potential wayfinding purposes.
We also recommend you to prioritize your rooms and environment. Do you have some rooms where you possibly don't need that accurate location, e.g. toilets and storages? If you have these kind of rooms in mind, you can leave them with less beacons.
Pro Tip! If you want to test whether trilateration is possible or not with your current beacon positions, just grab some good old pen and paper and colour the distances! If you are not able to make the triangles between the beacons, most likely trilateration won't happen. Remember your beacons' signal strength and range. Happy colouring!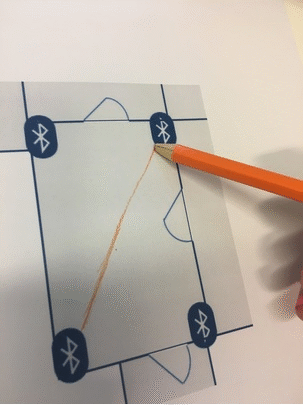 Beacon settings. After you have placed your beacons, it's good to take a look at their settings. Usually Beacon manufacturers send out their devices with great default settings so if you are lucky, you don't even need to touch those settings at all. Beacons usually come with an application/web portal that you can use to manage them.
By default the transmission power is usually set somewhere around -4db and the transmission interval around 350 milliseconds maximum. These are good for accurate indoor positioning. If the transmission interval value has been set higher than that, it will weaken the speed and accuracy of the positioning. If you are lacking accurate location of your smart device and beacons have been placed correctly, these settings are something to look at.
So what to remember?
1. Place the beacons regularly and evenly in the environment. The number of beacons depends on your environment.
2. Place them on walls, around 2m height.
3. Make sure you have set the preferred settings on the beacons. Pay attention to transmission power & interval.
4. Pay attention to the dimensions of the environment. Keep in mind that the maximum beacon range.
If you want to read more about indoor positioning, please visit this link: How Events Can Benefit From Proximity Analytics – Case: Arctic15. This is a case study about setting up indoor positioning at the old Cable Hall, where the Arctic15 conference was held.
P.S. Check the video below! This will help you to find your beacon positions. Please subscribe also our YouTube channel here!