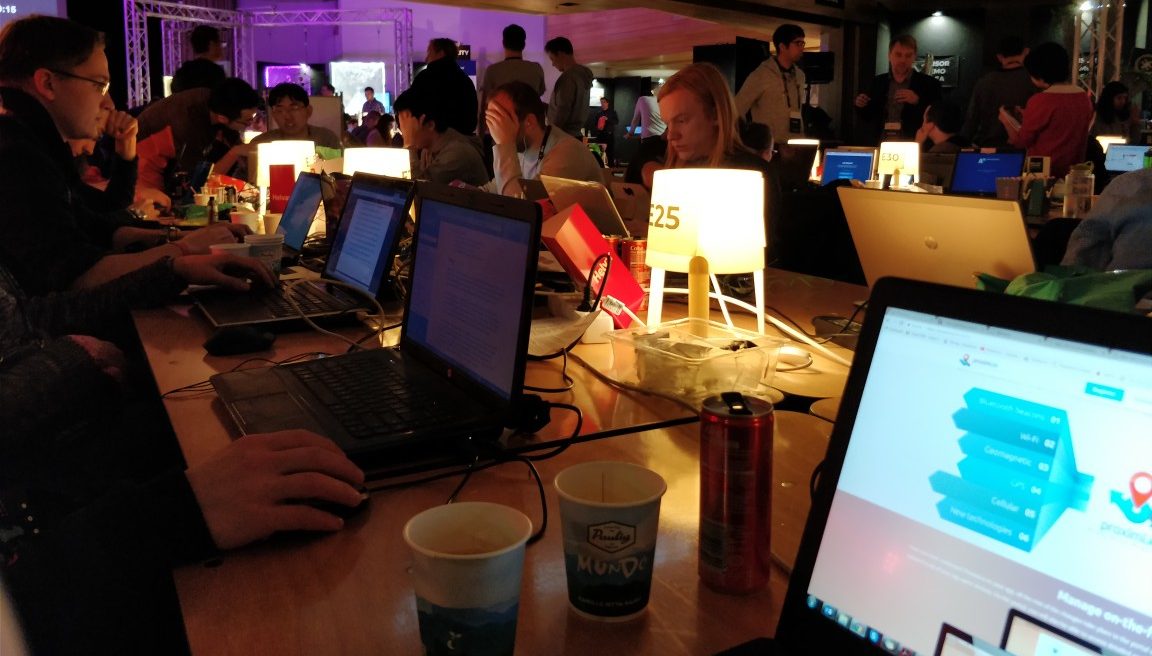 Junction, https://hackjunction.com/, is the biggest hackathon in Europe. This year the event gathered together 1500 hackers from 96 nationalities under one roof in Espoo, Finland between 24th -26th  November. These hackers – consisting of students, hobbyists and young professionals, competed over who builds the best solution for a real-world problem posed by corporations. The winner of the whole contest took home a whopping 20 000€ cheque, which encouraged the teams to push for their best. However, the most important thing at Junction is to learn new things, play with cool technology, meet new people, and have a great time.
We were very happy to participate in the event as a co-sponsor with Kone, https://www.kone.fi/. Kone, the second biggest elevator manufacturer in the world, has been traditionally linked with massive machines – elevators, escalators and electric gates. During the last years their focus is turning more and more into software, and outside of the elevator. Instead of the short moment spent moving between floors, they are aiming to improve the entire duration of the stay in the building, turning it into intelligent people flows. As indoor positioning has a very natural link to this, they invited the Proximi.io team to help hackers solve the problems Kone is hoping to solve. The questions could be summarized:
How can you improve the flow in a large commercial building?
How can you as an individual find your way around better in a large building?
How can you find you friend in a large building?
From the safety and security perspective – how do you know, when the building is empty, and where the remaining people inside are located in case of an evacuation situation?
A total of 15 teams took the challenge, building very imaginative and extensive solutions. You can find the whole listing on Devpost: https://junction2017.devpost.com/submissions/. Out of all the projects, there were two teams that really caught our and Kone's attention. Something really remarkable about these projects is that instead of thinking about the technologies and intelligence that could be built with it, they both started from the end user, and how they experience the visit at a large, commercial building. Technology for them was just an enabler, happening in the background, nothing that had to be highlighted too much to the user themselves. Here are the projects that got 1st and 2nd place in the "Unleashing IoT in commercial buildings by Kone" challenge.
———————————————————–
#2 Embrace
Team Embrace got their name from the cuddle you give to a friend or a relative that you have not seen for a long time. Their project is a very clever take on the much discussed topic – indoor wayfinding at airports. However, instead of focusing on guiding the passenger around the shops and restaurants and finally to the right gate, they turned their focus on the neglected people at the airport – the people waiting at the arrivals. Your mother, brother, auntie, husband or private coach driver waiting for your arrival has no idea how long it is going to take you to walk out of the arrivals door.
By utilizing indoor positioning, the system can track travelers as they progress through the stages of checking out at the airport. It accesses the geographical location of a traveler via several location services (beacons and IndoorAtlas), through a pre-installed app that the traveler has installed on a mobile device, and which synchs the data to the cloud. The traveler can choose who to share their location with through a link via social media or a text, after which the real-time location of the traveler can be viewed in an instant Android app or web app. Through geofences, the system can basically determine whether someone is at customs or already at the luggage claim. The embracers now know how long they will have to wait at the arrivals hall, making their experience less stressful. In the meantime, depending on the location, the app could show advertisements from the shops at the airport, generating extra revenues to the airport. Full project info: https://devpost.com/software/embrace.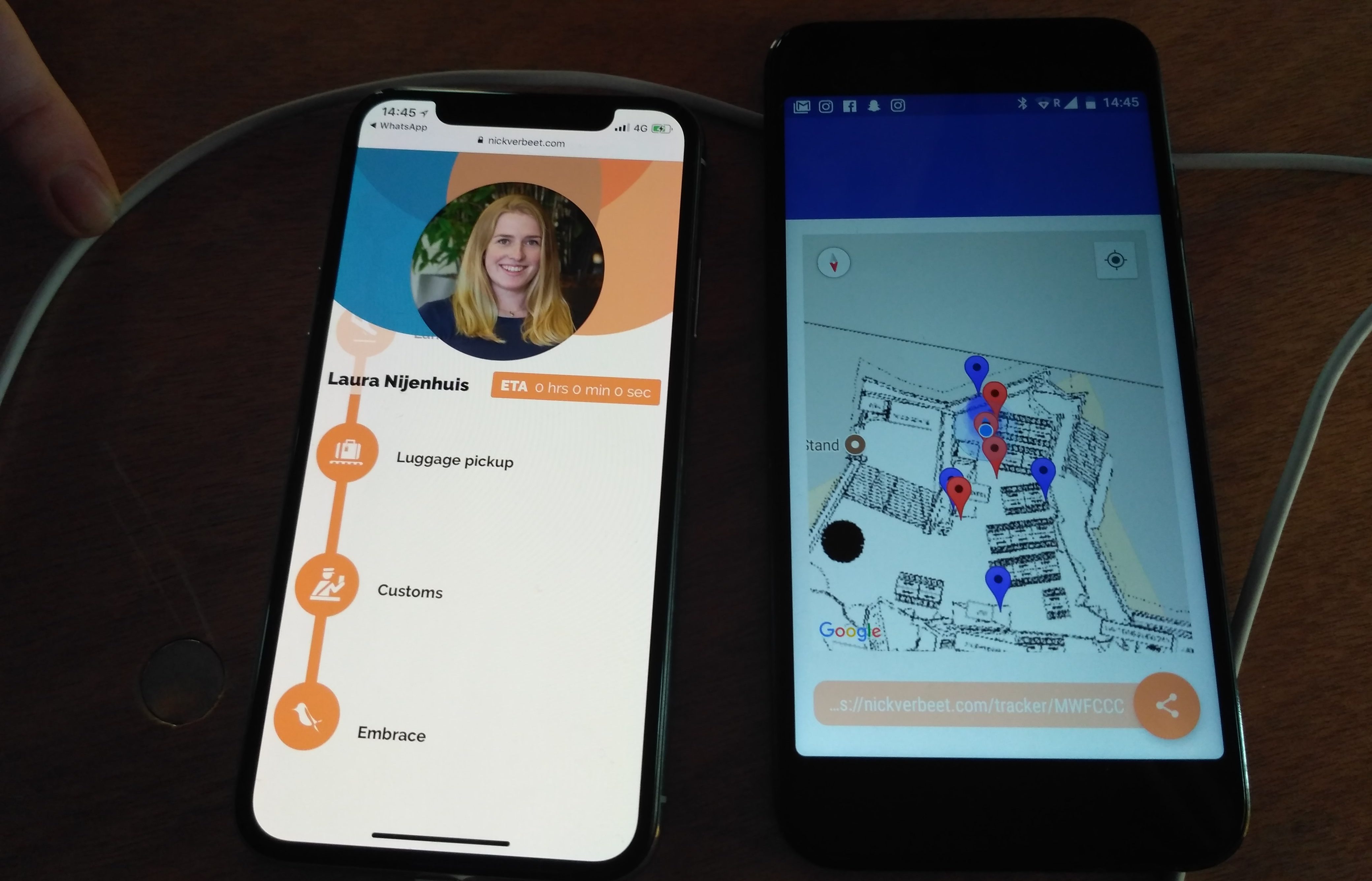 Why Proximi.io ❤ the project
– Very fresh look at an old topic – airport wayfinding.
– A lot of though put into the end user experience. Utilizing a clever combination of a mobile app and web app, which allows the embracers to see the passenger's position without downloading anything on their phone.
– Extremely polished project for the 48 hour time limit
How team Embrace describes their experience at Junction: "At first, we actually had difficulties specifically about which track suited our ideas best. We were doubting between Finnair and KONE for a fairly long time. Once our belief in the added user experience of embracers skyrocketed, we figured out that this is a matter that can impossibly be regulated by a flight agency alone. After this argumentation sunk in, it became clear to us that KONE had the right challenge for us.  We're really proud of the fact that we pitched the concept to many mentors at Junction and most of them had never heard of functionalities focusing on the embracers before. All existing apps and concepts are about the traveler and increasing the smoothness of his or her travel. Therefore, we knew we had a great unique selling point. And even though we know that Embrace is not a huge step in terms of technology, we know it does increase the user experience of embracers and it generates more income for airports. Both socially and economically, it's a win-win!
Another challenge was using the provided API's for this challenge. None of us has ever worked with beacons and geographical data collection before this hackathon. Friday's training on how to use Proximi.io and IndoorAtlas definitely helped us on how to navigate through the data and how to create geofences. It was fun to try out something new with a new API and we're happy that we managed to sort this out! Proximi.io's indoor navigation system allowed us to easily track a person indoor. With the platform it was very simple to link entering a part of a room with an action."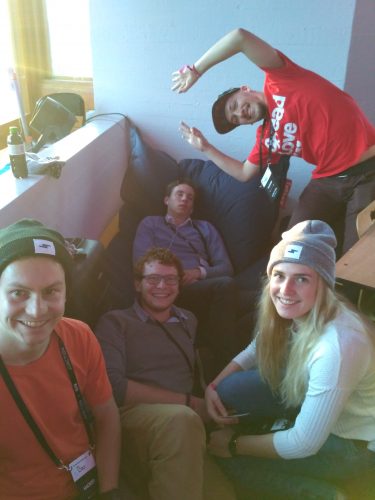 Embrace team: Laura Nijenhuis, Bas Schleijpen, Thijs Koppen, Bert van Gestel and poor Nick that fell asleep after coding the whole night. The team team consisted of Dutch students and entrepreneurs from Eindhoven, brought together by Dutch Coding Company.
—————————————
#1 flowPro
flowPro has also the end user in their focus. Their project was about turning one action to a chain reaction, that enables the end user to move to her destination effortlessly. For example, a person entering into a building is recognized, the correct electronic gates are opened for her, the elevator is directly ordered to the right floor, and her door is unlocked as she approaches it. As the identification happens through their mobile phone, the end user does not need to worry about carrying along their access tag, and it takes them less time to move around.
But the real value comes from the info, that flowPro provides to Kone and facility managers. The sooner accurate info about people moving needs and building utilization levels can is collected, better and efficient operations can be planned. The need for cleaning, ventilation and maintenance does no longer need to be estimated, but can be predicted from the data collected in the background on that solution. Furthermore, it allows Kone to connect with the building end users directly, outside of the elevators and escalators.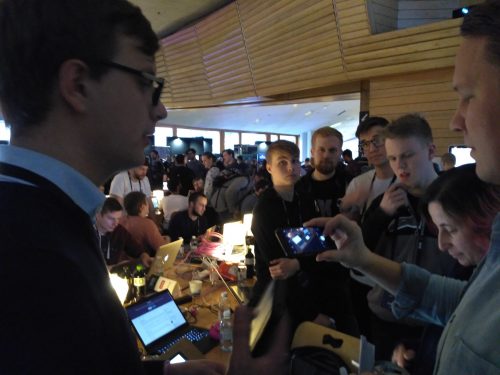 Why Proximi.io ❤ the project
– They took the challenge very seriously, and spent a lot of time discussing the business and technical aspects of their project with the Kone and Proximi.io teams.
– They took full benefit of the Kone API and Proximi.io platform. The project was definitely not left on mockup stage, but all the integrations were actually built to work through the Proximi.io action flow functionality.
– Polished demo. The team had obviously put a lot of effort in ensuring that the demo is as smooth and well-functional as possible, including a digital screen that demonstrated permissions given and denied.
How team flowPro describes their experience at Junction: "For most of us this was the second time participating in Junction so we knew beforehand how awesome it would be. And we weren't disappointed! When we initially discussed about different challenges we thought that we can provide most value to Kone. By this I mean that Kone is an interesting company as it has a long history and can be seen as a market leader on its business area, but the end user interfaces and user experience have not evolved too much in the last 5-10 years. We got a hang of what Kone was looking for faster than expected so we had plenty of time to build the demo.
Proximi.io was easy to develop and integrate. It had a significant role on our solution and performed quite well at the Junction venue although air was thick with interfering wireless traffic."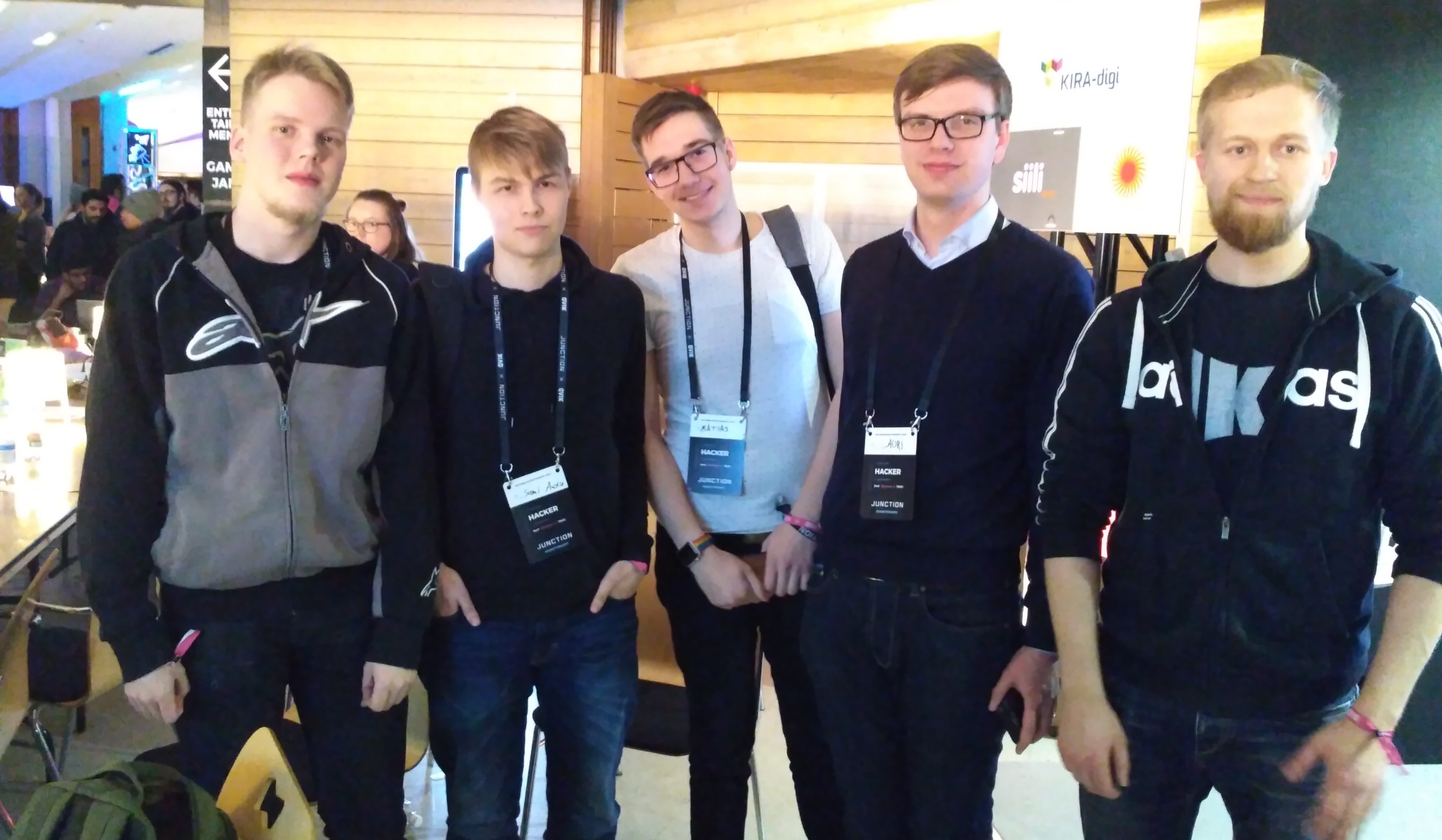 flowPro team: Matias Järvilehto, Lauri Mäkinen, Miika Avela, Atro Lähdemäki and Sami Autio from Jyväskylä University of Applied Sciences and Aalto University.
Congratulations again to both teams, and thank you to all teams who participated in the challenge at Junction 2017!