Great news from the community, Proximi.io-powered Consight app victorious in two construction innovation contests!
Last weeks have not only been great for Proximi.io team, but also for our partners.  Consight, a company that focuses on improving construction site workflow, won two competitions in a row. First they (together with Zenopt) came first in Industryhack's "Creating More Time for Work" challenge, straight after which they moved to Ultrahack to take the second place in the "Hack the Construction Industry Productivity" track.  Congratulations Consight app! We are very proud to see such excellent use cases being built on top of the Proximi.io unified mobile positioning platform.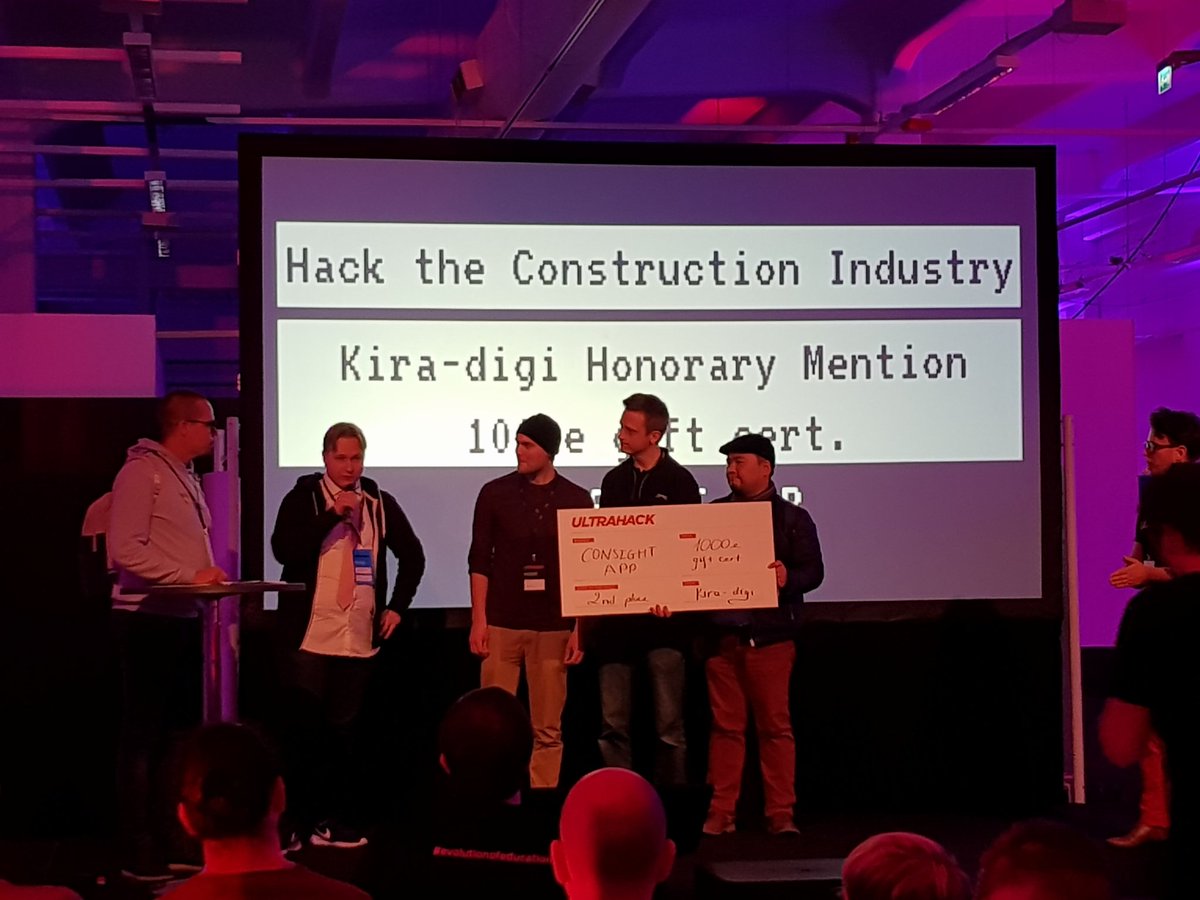 Photo: @Ultrahack twitter
What does the winning Consight app do?
The challenge at Ultrahack, "Hack the Construction Industry Productivity", was explained as the following:  Develop apps or solutions which make construction site operations and knowledge management more productive, transparent and smooth. If you are not familiar with the concept of hacking and hackathons, it is an event,  where teams of coders and startups compete to innovate against each other. The events typically consists of multiple tracks or challenges setup by corporations that they are hoping to solve. The goal of the hackaton is to create usable software solutions.
This is exactly was the Consight does. Consight, http://www.consight.fi/, is an app that assists in construction site management and supervision. Some of many features offered are in managing teamwork, project flow, security and task location. They are a great example of how tasks can be handled using a simple, but comprehensive tool.
As the mobile app is used by both construction supervisors and construction workers, it is important that the app is smooth to use, and does not take too much attention from the user. Therefore Consight has integrated Proximi.io platform to monitor the employees' working hours automatically. The working site is sectioned into predefined areas and then geofenced to calculate the exact dwell times of the users. Locating the user to these areas can be done using Bluetooth beacons, which help in determining even more accurate position indoors and outdoors than can be achieved with GPS. The mobile app does all this automatically in the background, without the need to wake the app during the working day. The recording of the working hours stops automatically when the user leaves the constructions sites vicinity. At the end of the day the user gets a summary of the times spent at the site that can be confirmed by a press of a button.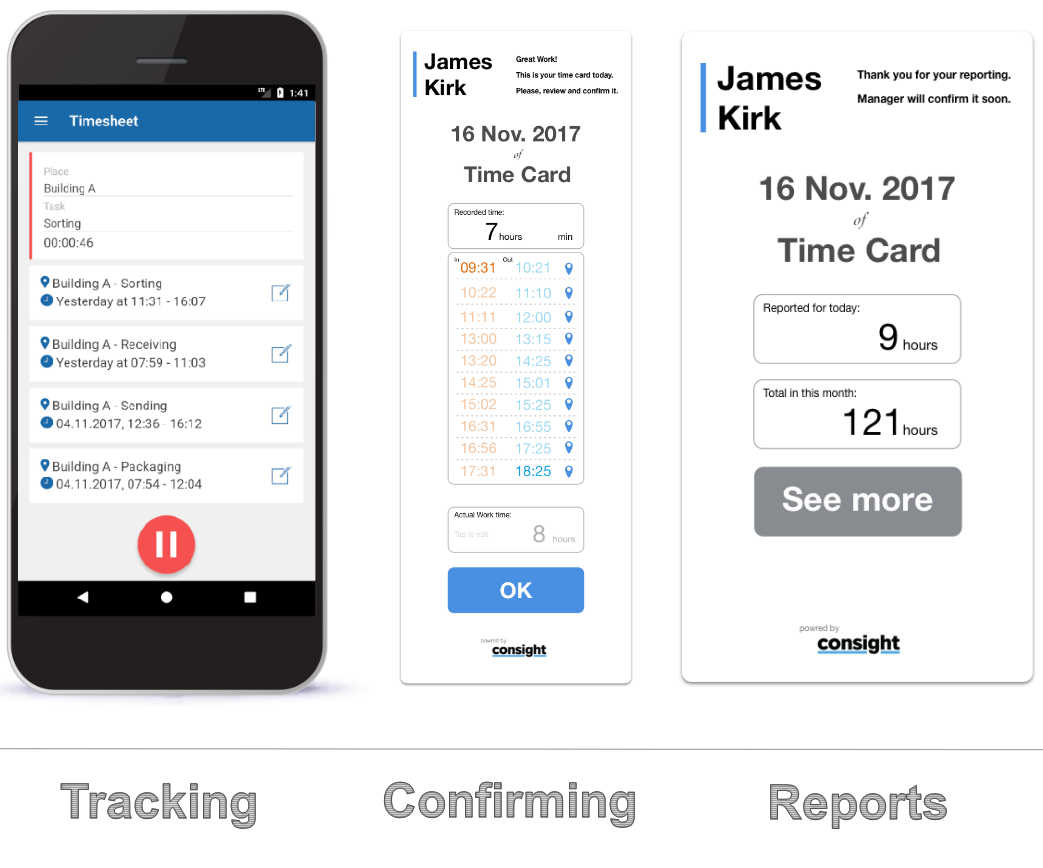 Why is the Consight solution so powerful?
Construction business for the majority is still an old-fashioned field, where a lot of the  work is done manually and carrying a computer around during your workday is simply impossible. That is probably the reason why the smartphone boom hit the field like a storm. The industry is realizing that they are decades behind in digitalization, and a lot of saving could be done with smarter workforce management. Managing and operating a construction site with multiple experts on different areas is hard. Keeping all the strings in one hand is quite a task. But digital, mobile specific solutions are a great way of relieving this pressure. This is how Consight application is hitting the nail in digitalizing construction business:
Quick and easy
Many times investing in new up and coming technologies is expensive. This is due to high acquisition costs of hardware needed to setup emergent technologies. By utilizing the smartphones already carried by almost every construction worker, the solution is quick and easy to setup. The user has the hardware already and it is maintained, quite willingly, by the user itself. Modern mobile phones have a lot of sensors in them, which allow for industrial use cases, more of those in our next paragraph.
Automation with location
Automation is widely used in many sectors, because it makes the mundane task not your job anymore. With construction many things can be automated, but what still lacks is the information of location. Workers need to report where they have been doing and what; things that need fixing need to be found and stuff go missing all the time. Location services and Bluetooth beacons can and should be the answer to this problem. They can accurately position where everything is, indoors and outdoors up to a couple of meter accuracy. This is also something that Consight has done and will be an important part of construction site management in the near future.
New Data
Innovations with mobile apps can be the new way of gathering data. Beacons in particular, will be the industry standard in automating the data gathering of employee movements. The result is accurate and rich position data and heat maps, that can have a grave impact on project management and closing them out. Just by knowing where and when everything is happening have multiple upsides to them that are just waiting companies to pick them up.
How can I digitalize my construction site?
Consight app is right now looking for pilot cases to try out their app! Visit their website consight.fi or email at consight@consight.fi for more information.