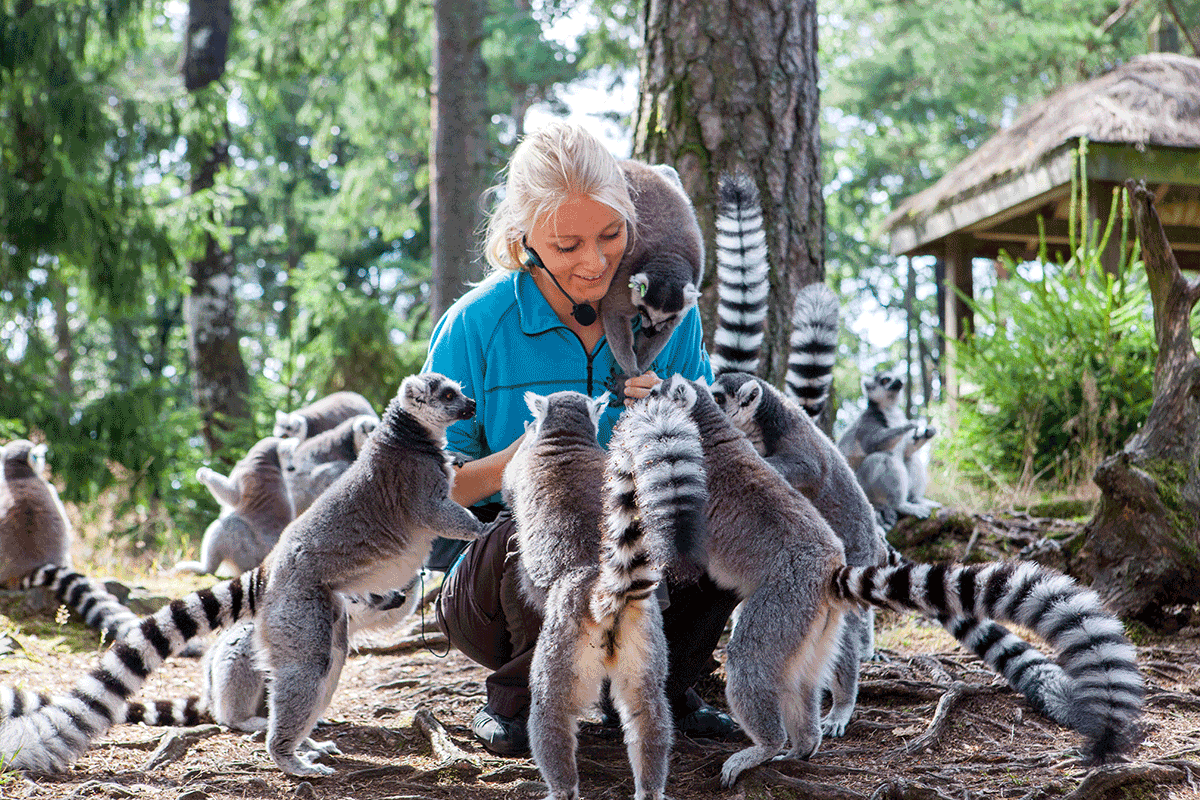 Lemurs using a mobile phone? No, but close. The biggest amusement park in Norway, Dyreparken, is soon offering a fully digitalized experience of seeing elephants, lemurs and tigers. Yonoton's unique mobile platform combined with Proximi.io's innovative and cool software will make that magic possible. So, we are super excited to start providing positioning for the tiger-hearted Zoo-goers as they can soon roam (use a mobile app to navigate and find the right way) their way accurately through the humongous 163 acres Savannah (a cool, accurate map) looking for pray (Points-of-Interest visualized on the map).
Norway's most frequently visited attraction
Dyreparken is a zoo, a water park and an amusement park in one, situated in the most beautiful nature in the South of Norway. The 163 acres of wild Nordic terrain with scenery and environment in abundance offer a unique visitor experience. The 139 animal species living in the park have wide open spaces and get as much freedom as possible. Hence, Dyreparken is working very closely with the World Wild-life Foundation to help save animals under threat of extinction. Over and above, the park also contains a number of activities and daytime shows as well as several accommodation opportunities and a water park. Altogether, Dyreparken Zoo and Amusement Park is Norway's most frequently visited attraction with more than one million customers a year.
Digitalization as an on-going process
Dyreparken is known as the one of the most innovative and modern actors in the amusement park business. That is due to the park's offer of new evolving modern-day experiences for its customers. Hence, Dyreparken uses digital technology in various ways to enhance the visitors' experiences.
"It is very important for us to constantly improve Dyreparken's guest experience. Technology is of course in the core of enhancing that. In our mind, digitalization is an on-going process. … So, our goal is to give our visitors a seamless digital experience while in Dyreparken",
André Steinsholm, head of E-Commerce at Dyreparken, explains.
Finnish innovation technologies
Consequently, Norway's largest amusement park, Dyreparken, has chosen Finnish technology provider Yonoton and Proxmi.io as long-term partners. The partnership of the three Scandinavian companies is contributing to the visitors' adventures in the park. That happens in a way of bringing in fast mobile payments, new ways of communication, marketing, mobile positioning, wayfinding and analytics.
"Dyreparken is a large complex area, where we are able to accurately position the visitors. Then we can guide them around and provide them location-based information about the park. Like this we can make a big impact on the visitors' experiences. So, we are thrilled to be a part of this project with Yonoton and provide world-class digital experiences for Dyreparken visitors",
Proximi.io's CEO, Annina Koskiola, points out.
Proximi.io technology can locate and guide people indoors and outdoors. Accordingly, the Proximity service provides indoor positioning, wayfinding and navigation, geofencing, and analytics.
Yonoton is a digital service which supplies ultimate customer experiences and maximizes revenue for businesses.
All things considered, the combined services of Proximi.io, Yonoton and Dyreparken will enable Dyreparken's customers a unique experience. The visitors can benefit from the brand-new consumer application in the upcoming summer season when the service is ready for launch.