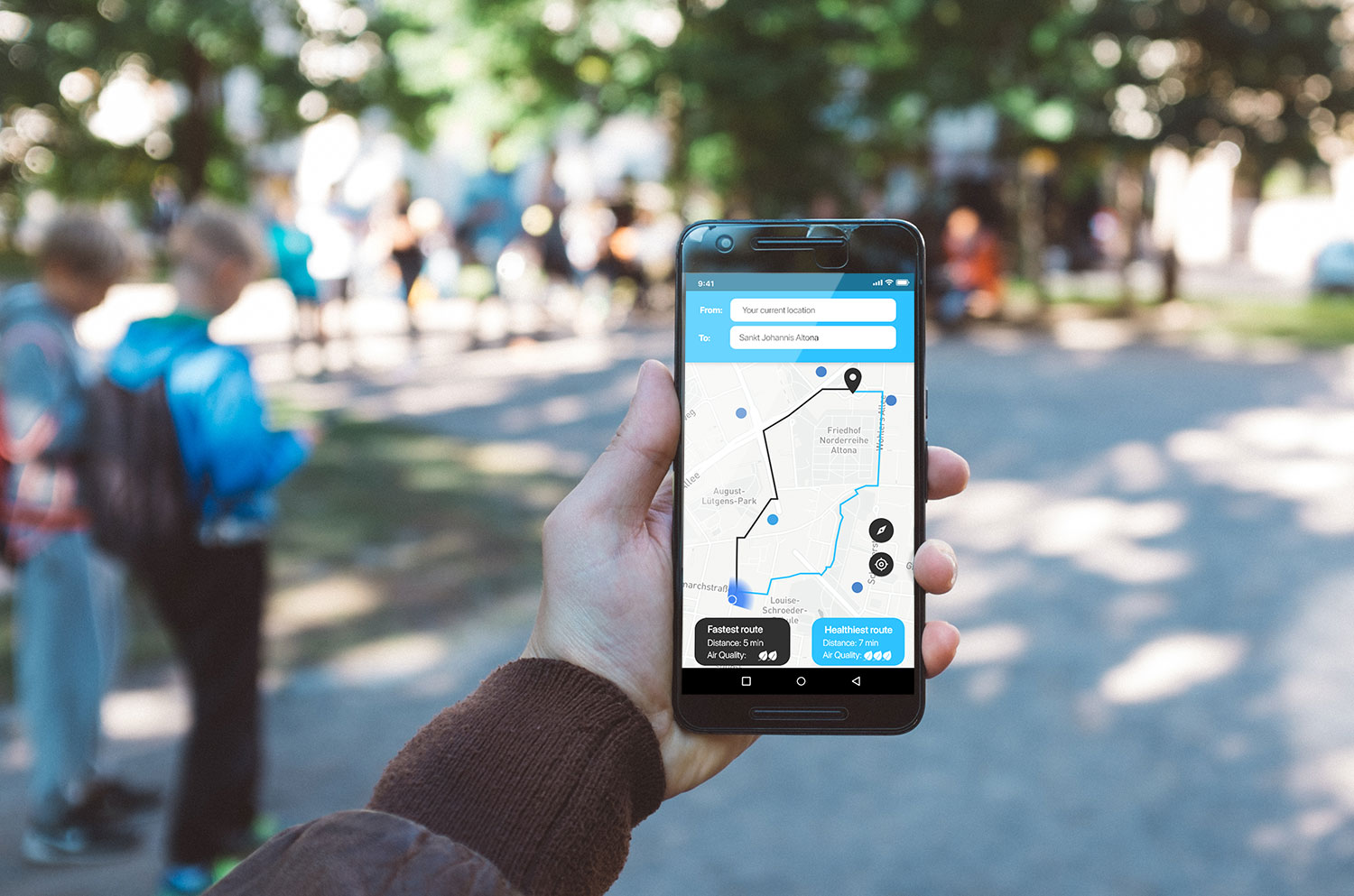 Helsinki and Hamburg.
Proximi.io has announced a strategic partnership with German air quality innovator Breeze Technologies to provide air quality data-based routing to European citizens. Their shared service will enable citizens to walk from A to B while exposing themselves to the least possible levels of air pollution.
Air pollution is the greatest environmental health threat of our time, causing 7 million annual deaths world-wide. It is also one of the biggest concerns for consumers: From 2014 to 2019, the number of people concerned by air pollution in Europe nearly doubled (49% vs. 88%) and "clean air everywhere" is one of the top 10 global consumer trends. Air pollution particularly affects elderly, chronically ill, children and pregnant women who are also some of the most likely groups to commute by walking. "Providing air quality-based routing to citizens is our next natural step to help protect citizens from smog and to raise awareness for the global problem of air pollution," said Robert Heinecke, Co-Founder and CEO of Breeze Technologies.
The new service will be based off Breeze Technologies' global air pollution models derived from more than 12,000 air quality monitoring stations world-wide, satellite data and other public and private data sources. Step-by-step walking routes are calculated by Proximi.io's leading indoor and outdoor navigation technology. Annina Koskiola, Co-Founder and CEO of Proximi.io, said: "We are very excited to add air quality-based navigation logic to our offering. Proximi.io today powers indoor and outdoor navigation applications for numerous partners, such as cities, real estate and mobility companies. Our new ability to provide healthy routing based on air quality data will bring great value for our customers."
The service is expected to launch later this year for a limited beta in the city of Hamburg and will be available as an app on iOS and Android. Breeze Technologies and Proximi.io will be working with governments, cities and corporate sponsors to make the service available in further regions. The capability will also be available as an add-on routing logic through Proximi.io's API to existing and new customers. The project was selected to receive funding and support from the EU-powered PARSEC initiative based on its significant potential impact.
Proximi.io is the first unified positioning platform. Their versatile technology is used in locating and guiding people indoors and outdoors in shopping malls, amusement parks, office buildings, museums and across cities. The company was founded in 2014, and has won numerous awards, including the section as one of the most promising European IoT startups. Proximi.io operates globally, with customers ranging from Aruba to New Zealand.
Breeze Technologies is a technology leader for air quality sensors, data and analytics software. The company leverages the internet of things and artificial intelligence to help cities and businesses create better clean air action plans and a more liveable environment. Breeze Technologies was founded in 2015 and has been recognised as one of the most promising European startups in the European Parliament. The startup's founders Robert Heinecke and Sascha Kuntze have been listed as Forbes 30 Under 30.
PARSEC is a business accelerator supporting the creation of new Earth Observation-based products and services. The accelerator targets SMEs, start-ups, entrepreneurs and individuals who want to have an impact on the emerging Food, Energy and Environment sectors.
Further information
Proximi.io: https://www.proximi.io
Breeze Technologies: https://www.breeze-technologies.de
PARSEC: https://parsec-accelerator.eu/
Press contacts
Proximi.io – Annina Koskiola, Co-Founder & CEO, annina.koskiola@proximi.io, +358 40 353 3131
Breeze Technologies – Robert Heinecke, Co-Founder & CEO, robert@breeze-technologies.de, +49 40 766 292 262