After 1,5 years of hard work, we are super excited to announce that Proximi.io Proximity Platform is now ready for use!
In short, what we have been aiming to create is a simple plugin that creates a fast gateway to all the existing location technologies. By adding the Proximi.io plugin, you can turn any app into a location-aware one in just a few minutes.  And by location-aware we mean that you will be able to track where your app users are moving anywhere in the world –both indoors and outdoors. Based on their coordinates, you can trigger a variety of different actions to take place, both on the end users' mobile phones and in external databases and devices.
The most common use of location-specific triggers is to deliver site-specific advertisement and other notices to your app users. This is naturally also possible to do with the Proximi.io platform.  However, what we find most promising about the platform is the ability to connect locations with external resources.  This means that instead of bombarding your app users with constant push notifications, you can assist and enhance their visitor experience in your premises in multiple other ways. For example, you can send notifications to staff when visitors enter specific areas; automatize doors and other Internet-connected devices; or connect Proximi.io to digital screens in order to display targeted advertisement to each passer-by.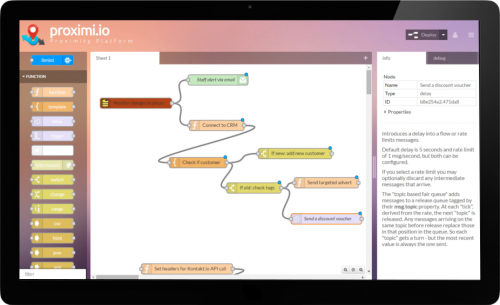 A third use case relates to the detailed analytics that Proximi.io collects about your users' whereabouts and movements within your premises and in the city. The door is wide open for different opportunities, and we are looking forward to hearing more about your ideas on how you are going to use Proximi.io!
The reason, why we started developing Proximi.io was to get some clarity into the disordered field of indoor navigation. During the last few years, new indoor navigation technologies, manufacturers and standards have started appearing at an ever-increasing pace. We, like other developers, had a hard time constantly keeping up with the changes in the field, and in deciding, which new technologies to incorporate in our work.  Our aim was to simplify and speed up the development process for location-aware apps. What we ended up creating, is a technology-agnostic mobile marketing platform that offers the most versatile use for location information available on the market.
So, long story short – Proximi.io has now been launched as beta. The completely free beta version includes all of the basic features of Proximi.io (i.e. the Putter plan) plus some of the extra features from the Midrange and Driver plans that we are still working on. New features will become available for you to roam around with, as we get them finished. We welcome you with open arms to sign up an account and give Proximi.io a go! If you don't know any programming, you can still test Proximi.io with the Proximi.io Demo App and demo account.  The Demo App is now available for Android in the Playstore, and the iOS version is just slightly behind, waiting to be accepted into the Appstore.
Download the Android test app here:

We would love to hear your thoughts on Proximi.io! If you have any questions, comments or ideas, please contact us by email or comment below.