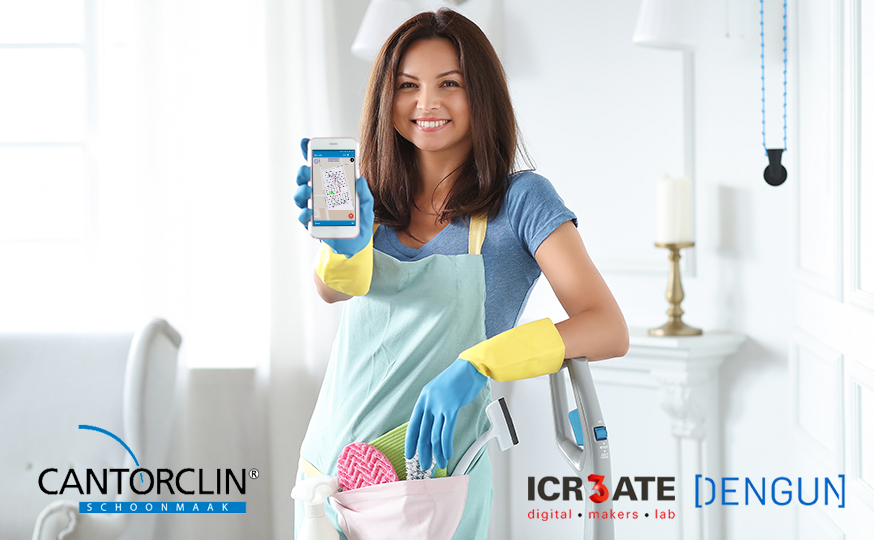 Commercial cleaning is a labour-intensive field. In 2015 there were approximately 875,000 businesses employing about 3.5 million people. It is also a mature and highly fragmented market and is one of the most competitive of all the contracted-out sectors. One of the big drivers in change in the field is remote work. Whereas traditional offices have been built on the idea that everyone needs their own space, every day – in the next ten years, it is estimated that 38% of workers will work predominantly remotely.
Cantorclin, a Dutch cleaning company with over 60 years of experience in the field, has coming up with the new concept: "Pay-as-you-clean".  Think of it this way: the concept of cleaning is simple – clean rooms when they are dirty. The question is: How to know which rooms need cleaning? How to help cleaners in utilizing this information? If this can be solved, the challenges for both offices and cleaning companies will be overcome.
Two IT companies, ICR3ATE and Dengun, set off to solve this issue with Proximi.io technology. The solution is a combination of Bluetooth beacons, PIR sensors and a mobile application with geofencing, accurate indoor positioning and wayfinding.
UPCOMING: A case study with details on how automatic presence detection, analytics collection and direct guidance to the cleaning staff improved the profit margins of Cantorclin.