Connect your apps to the physical world
Unified SDK and API to all indoor & outdoor positioning
UNIFIED ACCESS TO ALL MOBILE POSITIONING
Proximi.io is a developer platform offering you all the positioning technologies and all features in a simple solution. Enable outdoor and indoor positioning in your app through iBeacon, Eddystone beacons, IndoorAtlas geomagnetic positioning, Wi-Fi, GPS and cellular positioning. Proximi.io is truly technology-agnostic, and committed to supporting all of the major positioning technologies. In other words, you'll be safe with us – no matter what technologies you want to use today or tomorrow. Add geofencing with top market quality background functionality for indoor or outdoor spaces. And top it all with wayfinding and location-based analytics.

IN PARTNERSHIP WITH

MANAGE ON-THE-FLY
Integrate Proximi.io to your own app in less than 30 minutes. After that, all the rest of the changes take place on the web portal with visual tools. Any change you make will be automatically updated to all of your app users' devices. On the portal, you will also be able to access detailed analytics and heatmaps about where your app users have been moving.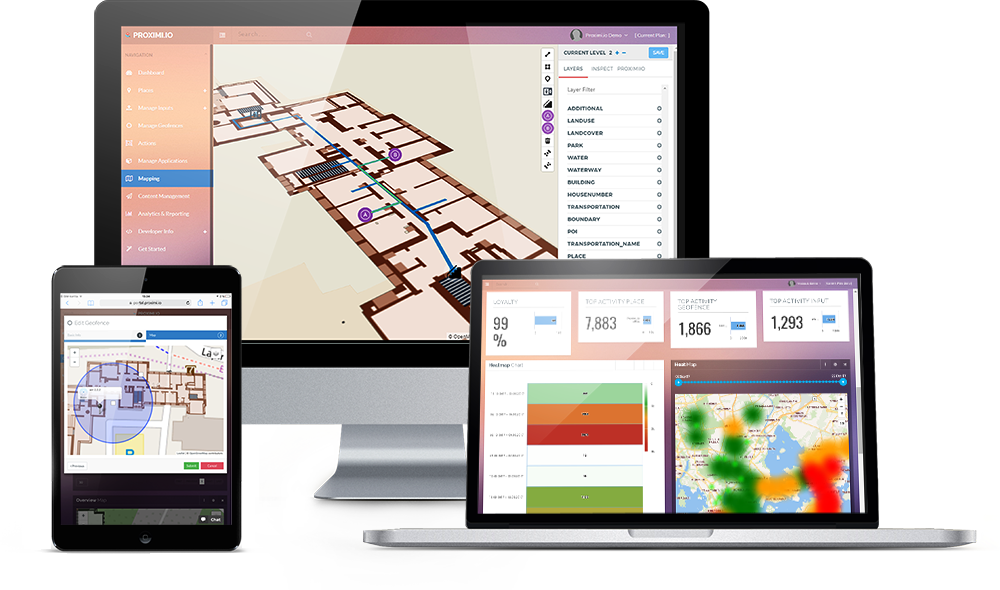 LOVED BY DEVELOPERS
Proximi.io is not a marketing platform, but built with developers in mind. We've taken care of all the heavy lifting, so you can focus on building awesome apps. Build integrations to other APIs on the portal, or use our REST APIs to build your own solution on top of our platform. Anything you see on our portal is also accessible through the APIs.
Battery-efficient
Proximi.io SDK automatic power saving features minimize the battery drainage.
Background functionality
Best-in-market level background functionality for positioning and geofencing on both Android and iOS.
Offline mode
Our SDKs include a cache for temporary lack of online connection. Especially useful for tourists and underground installations.
Lightweight
Proximi.io cloud-based soltuion means that your SDK won't be bloated by the installation. The size of the SDK is only a couple of MB.
ALL THE MAJOR PLATFORMS
Boost your mobile apps with our native Android and iOS SDKs and Cordova plugin.